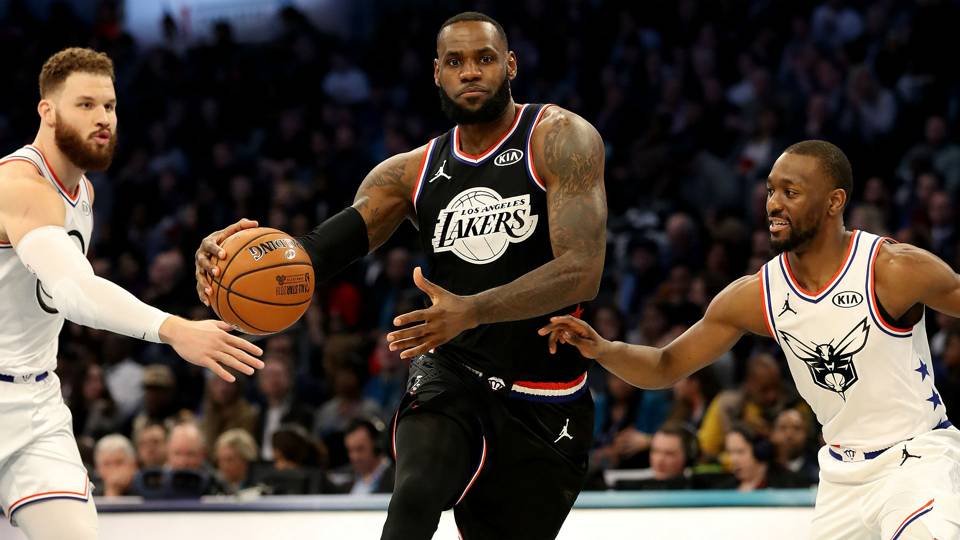 Eric Watson
The NBA All-Star weekend is a star-studded event with the top basketball athletes from the past to the present, biggest internet influencers, greatest actors/actresses and the most popular musicians. All of the stars come together to show appreciation for the athletes that have stood out so far this season. This year's All-Star weekend was the NBA's 68th annual event. If you missed the conclusion of the exciting 2018-2019 NBA All-Star weekend let's review all of the new faces, big winners and exciting moments.
Rising Stars Friday
Friday's events featured the NBA All-Star celebrity game and The Mountain Dew ice rising stars game. The All-Star celebrity game featured stars from all walks of life such as:
Famous Los- an Instagram comedian.
Mike Colter- aka Luke Cage
Quavo- of the Migos
Bad Bunny- a Recording artist
Jay Williams- Ex-Duke star and NCAA commentator
Dr. OZ- from the Dr.OZ show
Amanda Seales- Actor, Musician, and activist
Ray Allen- Ex NBA star and actor
JB Smoove- Comedian and Actor
Rapsody- Rapper
Terrence J- the ex-host of 106 & park and actor
     The game was full of exciting and hilarious moments like when famous Los tried to nutmeg Ray Allen. Another amazing moment was watching Ray Allen shot the ball with the same accuracy he did while playing in the NBA. Quavo was also must see tv with a game-high of 27 points and 9 rebounds while Ray Allen put up 24 points, 9 rebounds and 5 assist in a losing effort for the away team. The leader for the home team was also your 2019 celebrity game MVP Famous Los who put up 22 points and 3 assists while Jay Williams added his own 18 points and 5 assists to the stat sheet. The final score was a nail-biting 82-80 with the home team holding on to win despite a late away team offensive push. In years past the celebrity, game has gone somewhat unnoticed however with The NBA taking a different route with celebrity inclusion by adding Internet personalities, a four-point line and even a couple WNBA stars gave the game new life.
   After the celebrity game came the rising stars basketball game which is an event that host some of the NBA's newest, brightest and most talented stars. This game featured stars like Ben Simmons, Kyle Kuzma, John Collins, Donovan Mitchell, Luka Doncić, Jayson Tatum and more. This year rising stars game was set up that the young United States stars would go up against the world's best talent in a team USA vs. team world game. In a losing effort, the Leaders of team world were Ben Simmons who had 28 points, 5 rebounds and 6 assists and Lauri Markkanen who pulled down 21 points and 6 rebounds. While on the winning Team USA side the leaders were Kyle Kuzma who put up 35 points, 6 rebounds and Jayson Tatum who racked up 30 points and 9 rebounds for himself. Kyle Kuzma walked away with the rising stars MVP which many believe was an intentional effort to make a statement about his worth since he was put up by the Lakers in a trade for Anthony Davis just weeks earlier. The final score of this game was 161 to 144 in a somewhat close game all the way until five minutes in the fourth where team USA pulled away. Although many will complain about the amount of defense played in this game I believe we would rather see less defense than one of our young stars getting hurt. All in all, this was an exciting game and the conclusion to the start of what would turn out to be a great weekend.
State Farm All-star Saturday night
Saturday nights event consisted of the Taco Bell skills challenge, the three-point contest, and the world renown AT&T slam dunk contest. These are all-star weekend staple events that feature some of the biggest stars from Steph Curry to J. Cole.
To start off the night the NBA had the Taco Bell skills challenge that featured Trae Young, Jayson Tatum, Michael Conley, Kyle Kuzma, Luka Doncić, De'Aaron Fox and more. Some of the highlights from this event came when Trae Young beat De'Aaron Fox even though De'Aaron Fox had an early lead and was able to get up two threes. The second of the two threes went in but after Trae Young threw up a bomb that snuck under De'Aaron fox's ball and went through the net first. However, the highlight of the night was between the two finalists Jayson Tatum and Trae Young. In this matchup, Jayson Tatum gave Trae Young a dose of his own medicine where he was trailing early but was able to come back and win with a half court heave that went in all net to devastate Trae Young and sent Jayson Tatum home with the Taco Bell skills challenge trophy.
The second event of that night was the three-point contest Featuring Steph Curry, Seth Curry, Damian Lillard, Buddy Hield, Joe Harris, Kemba Walker, and Kris Middleton. The first round had some compelling moments but the true excitement came in the championship round between Joe Harris, Steph Curry, and Buddy Hield. Joe Harris started the round off with a haymaker with 26 points and making his whole money ball rack. This score set a tone that buddy Hield was not able to live up to only getting 19 points and bounced with no hope. With Steph Curry, the last final list to shoot everyone in the gym figured he would run away with this event. However midway through the third rack of balls curry seem to have had lost his mojo slightly. He regained it midway through the fourth rack but it was too little too late finishing with a score of 24 Which led to the crowning of Joe Harris as The NBA's 2019 three-point contest champion.  This is one of the more compelling three-point contest in recent history due to the storylines that lead up giving Joe Harris no chance of beating Stephen or Seth Curry even though Joe Harris is the ranked second in three-point percentage this year.
The last event of Saturday night was the AT&T slam dunk contest. This is an event that has had some of the greatest Hall of Famers take part in order to showcase their insane jumping abilities. This year's AT&T slam dunk contest featured Dennis Smith Jr., John Collins, Miles bridges and Hamidou Diallo. The excitement level of this dunk contest Gradually picked up as the event went on. The crowd seemed apprehensive at first which could have been because they didn't know much about the contestants however once they started flying all eyes were on them and all jaws were on the ground. In the second round, the contestants showed out by bringing out their stunts and special guests. John Collins jumped over one of the first model airplanes as a form of respect to North Carolina and the Wright brothers. Dennis Smith Jr. brought out J. Cole a North Carolina native and jumped over him in an amazing feat of athleticism. While Hamidou Diallo jumped over Shaquille O'Neal to finish with the vintage Vince Carter elbow in the rim dunk. The final round was a face-off between Dennis Smith Jr. of the New York Knicks versus Hamidou Diallo of the OKC Thunder. In this round, Dennis Smith Jr. had some great concepts but lacked execution by missing many times before his finale finish. On the other hand, Hamidou Diallo may have lacked originality but had great personality and efficiency with his dunk attempts. These Attributes lead Diallo past Smith with relative ease winning him his first AT&T slam dunk contest championship and finishing off a great Saturday night for the NBA.
Team Lebron vs. Team Giannis Sunday
To cap off the weekend we had a very compelling all-star game in its second year of abandoning the West Coast versus East Coast format. Although there are some drawbacks to this change the fans have enjoyed being able to pick the captain of the All-Star game. The two Captains were LeBron James of the Los Angeles Lakers and Giannis Antetokounmpo of the  Milwaukee Bucks. Kevin Durant was the high scorer for team LeBron netting 31 points and 7 rebounds, Lebron finished with 19 points, 8 rebounds, and 4 assists. As a specialty pick, Dwayne Wade added 7 points and 4 assists not to mention a few reminiscent alley-oops to Lebron. Many people thought that team Giannis what is the weaker of the two teams however they did not fail to bring it to team LeBron. Jan is onto the c many people thought that team Giannis was the weaker of the two teams however they did not fail to bring it to team LeBron. Giannis Antetokounmpo finished the game with 38 points, 11 rebounds and five assists which are numbers no player has ever put up in an all-star game. Despite those of Amazing numbers team Giannis loss to team LeBron with a score of 178 to 164. Kevin Durant to come in the NBA all-star game MVP which is his second MVP honor. This concluded a wonderful weekend that looked beautiful in Charlotte and cant wait to see what Chicago has next year.