Symere Woods better known by his stage name "Lil Uzi Vert" was born on July 31, 1994, in Philadelphia, PA, and was given the name due to his peers claiming his flow to be "fast like a machine gun". Some of his biggest influences would be Mike Jones, Wiz Khalifa, Paramore, and Marilyn Manson which explains his sound as he gives off a Rap Rock N' Roll futuristic type of feel to his music. He started rapping in the 10th grade after hearing his friend freestyle to a remade Chris Brown instrumental track, which would lead him to rapping off beats on the internet and forming a rap group called "Steaktown" which would split up down the line before starting his solo career.
He launched his first project "Purple Thoughtz Vol. 1" in 2014, which caught the attention of different artists. One was ASAP Rocky and the ASAP Mob who he would later collaborate with, but this meeting would link Lil Uzi Vert with Producer/DJ Don Cannon and later release his mixtape "The Real Uzi" in August 2014. Shortly after he would sign a deal with Atlantic Records under DJ Dramas's imprint "Generation Now" and release his 2nd mixtape "Luv is Rage" in 2015 which received great acceptance collaborating with Wiz Khalifa and Young Thug and earning "the breakout artist of 2015" by HotNewHipHop.
In 2016 he released the single "Money Longer" which garnered him a huge buzz as it landed his first single on the Billboard Hot 100 peaking at 92. Prompting him to launch his album "Lil Uzi Vert vs The World" in 2016 that debuted 37th on the Billboard 200 chart and that same year he would make the list for the 2016 XXL Freshman. In 2017 he featured on Migos hit single "Bad and Boujee" which reached No.1 on the Billboard Hot 100, and then released his 4-track EP "Luv Is Rage 1.5" which contained his hit single "XO TOUR LIiF3" which would later appear on his album "Luv Is Rage 2.0" which reached No.1 on the billboard 200, and amass 1.3 billion streams worldwide.
RETIRMENT???
In recent news, Lil Uzi Vert has been having some ongoing issues with his label and releasing new music. "Eternal Atake" which is the name of his next slated album has been on delay for a long time now and has fans wondering when new music will come. At the beginning of the year he released his single "New Patek" which had fans hyped as it might be a sign to his album dropping soon. This, however, was only a tease as Lil Uzi Vert would later announce he was retiring from music and remove all his content from streaming networks via his Instagram Story.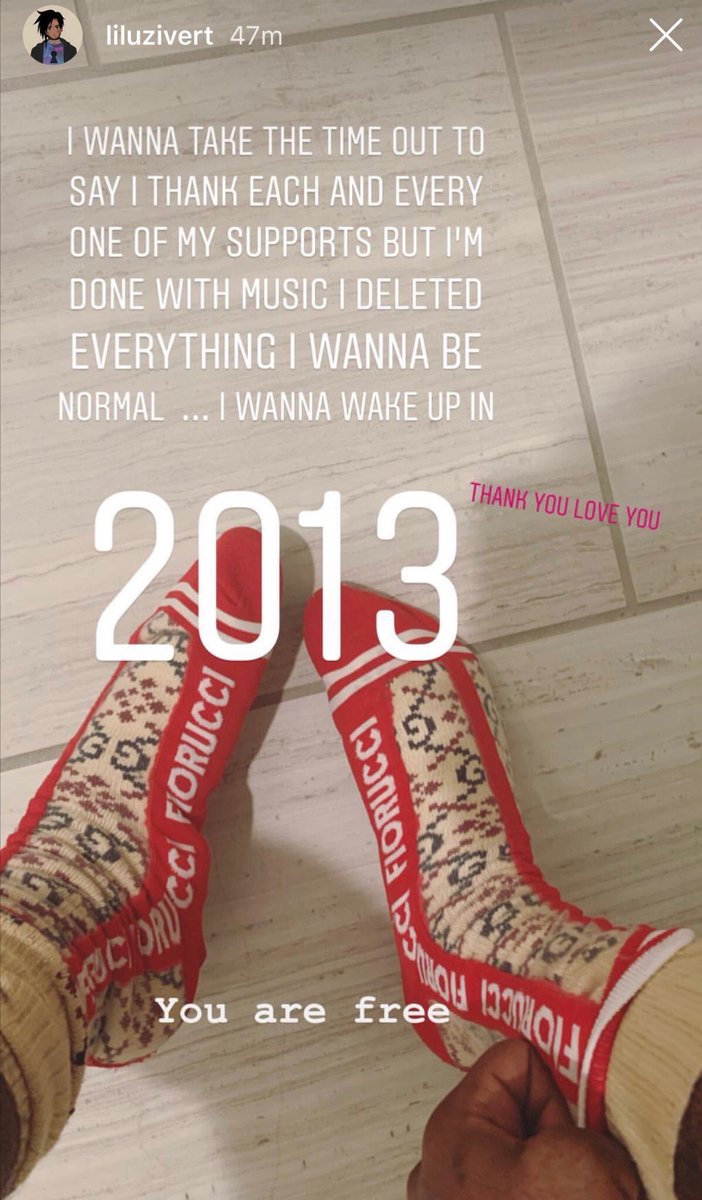 There has been a lot of speculation from his fans on why he decided to retire, label issue with releasing music due to his discography with Atlantic Records, personal problems or it simply being a marketing tool to promote his new album. The last song he released was "Shells" a collaboration with Shabazz PBG which in his verse he would take a shot at his label rapping "Tryna figure out how I'm gon' get out my deal". This line lets us know that his issue with Atlantic Records right now is bad and he wants out ASAP.
The latest news we've received from the so call "retired artist" was via Instagram Live where he took time from his retreat to tease an unreleased song that he deemed was old and also very vaguely expressed "They won't let me feed yall" hinting again that Atlantic Records isn't letting him release music. That same week Lil Uzi Vert cut his dreads serving a new look and appeared in the Hammerstein Ballroom as a special guest at Meek Mill's latest concert event performing two of his hit singles "XO TOUR LIif3" and "Dreams and Nightmares."
We will be waiting for his album "Eternal Atake" which is rumored to come out this year, but a release date hasn't been confirmed yet. Fans hope that Lil Uzi's label issues get cleared up as the wait for him to release music continues.